Guest composers in the 2016 Charlotte New Music Festival:
John Allemeier
Joel Hoffman
Charles Nichols
Paula Matthusen
Ricardo Zohn-Muldoon
Clint Needham
Alejandro Rutty
---
The music of John Allemeier has been described as having a "sweet sense of mystery" by Fanfare and as being "rapturous" by the American Record Guide.  His music has been programmed on international venues such as the Frankfurter Kunstlerclub (Germany), 3rd Rencontres Musiques Nouvelles (France), Festival Internacional de Percusiones (Mexico), Russia-America: Music of the XXI Century at the Moscow Conservatory, the Seoul International Computer Music Festival (South Korea), the Brazilian Symposium on Computer Music, the International Double Reed Society, ClarinetFest (International Clarinet Society), and the International Society of Bassist Convention; and on national festivals such as Piccolo Spoleto, the 5th Annual Festival of Contemporary Music in San Francisco, and the Spark Festival in Minneapolis; on national conferences of the Society of Composers, the Society for Electro Acoustic Music in the United States, National Association of Composers in the United States, and the College Music Society.
Allemeier's music has been performed throughout the United States and Europe by professional and collegiate ensembles such as Fresh Ink, Low and Lower, Madison Park String Quartet, Duo XXI, Due East, the Petrella Ensemble, the University of Iowa Center for New Music, the University of Iowa Graduate Chamber Orchestra, Oberlin Percussion Group, the Texas Christian University Percussion Ensemble, the University of Illinois Contemporary Chamber Singers, the UNC Charlotte Percussion Ensemble, and the UNC Charlotte University Chorale.  He has composed pieces for professional performers such as Anthony Stoops, Scott Christian, Wolfgang David, David Gompper, Jeffery Lyman, Nick Petrella, Erin Lesser, Greg Beyer, Mira Frisch, and Paul Sharpe.
Recordings of Allemeier's music are available on the Albany, Capstone, and Vox Novus labels.  His music is published by Carl Fischer Music Publishers, C. Alan Publications, and European American Music.   He received his Ph.D. in Composition from the University of Iowa, his Master of Music in Composition from Northwestern University, and his Bachelor of Music in Performance from Augustana College.  He has studied in Europe at the 41st and 42nd Internationalen Ferienkurse für Neue Musik in Darmstadt, Germany, and the 6th International Composition Course in Cesky Krumlov, Czech Republic.  He currently teaches composition and music theory at the University of North Carolina at Charlotte.
---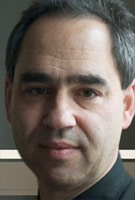 Born in Vancouver, Canada in 1953, Joel Hoffman received degrees from the University of Wales and the Juilliard School. He is part of a distinguished musical family that includes brothers Gary and Toby, cellist and conductor, and Deborah, harpist. Honors include a major prize from the American Academy-Institute of Arts and Letters, two grants from the National Endowment for the Arts, the Bearns Prize of Columbia University, a BMI Award, ASCAP awards since 1977, and three American Music Center grants.
Currently, Hoffman is Professor of Composition at the University of Cincinnati's College-Conservatory of Music, where for 16 years he was also Artistic Director of its annual new music festival, MusicX. He is also guest Professor of Composition at the China Conservatory in Beijing. During the 1993-94 season, he served as composer-in-residence with the National Chamber Orchestra of Washington, DC and in 1991-92, he held the position of New Music Advisor for the Buffalo Philharmonic. He has been a resident composer at the Rockefeller, Camargo and Hindemith Foundations, the MacDowell Colony and Yaddo. Hoffman is also an active pianist, having appeared as soloist with, among others, the Chicago Symphony, the Belgian Radio and T.V. Orchestra, the Costa Rica National Symphony and the Florida Orchestra.
Hoffman's works draw from such diverse sources as Eastern European folk musics, Chinese traditional music and bebop, and are pervaded by a sense of lyricism and rhythmic vitality. They have been performed by many ensembles such as the Chicago Symphony Brass, the BBC Orchestra of Wales, the Cincinnati Symphony Orchestra, members of the Berlin Philharmonic, the Cleveland Quartet, the Shanghai Quartet, the Brentano Quartet and the Golub-Kaplan-Carr Trio. "Self-Portrait with Gebirtig", for cello and orchestra, has been performed in New York, Paris, Tel Aviv, Los Angeles, San Jose (Costa Rica), Washington, Baltimore, Pittsburgh, Cincinnati, Santa Barbara, Kronberg (Germany), and has been recorded by the Berlin Radio Symphony, the Kiev Chamber Orchestra as well as by the Slovenian Radio Symphony in Lubliana. Hoffman's opera, "The Memory Game", received its first performances in May of 2003. The opera examines the destructive nature of war, as seen from the perspective of Mordechai Gebirtig, the Polish-Jewish sogwriter from Krakow. The opera's libretto was written by Dutch novelist Henk Romijn Meijer. "Brave Old Mordechai" (based on material from the opera) was recently taken on tour in Holland by the Amsterdam Sinfonietta and Brave Old World. His new concerto for dizi (Chinese bamboo flute) and dizi orchestra "The Dizi in my Life" was performed at the Southbank Centre in London in 2014.
His music has been frequently heard at summer festivals such as Caramoor, Portogruaro, Korsholm, Evian, St. Nazaire, Newport, Chamber Music Northwest, Great Lakes Chamber Music Festival and the Seattle Chamber Music Festival. Some of the organizations that have commissioned Hoffman's music include the Berkshire Music Center at Tanglewood, the Fromm Foundation, the Cincinnati Symphony, the National Chamber Orchestra, the Washington Camerata and the American Harp Society.
All of Joel Hoffman's music is published, either by his own publishing house Onibatan Music or by RAI Trade, E.C. Schirmer, G. Schirmer and Lyra Music. There are recordings on the CRI, Koch, Stradivarius, Centaur, EMA and Deutsche Welle labels. A disc devoted to Hoffman's chamber music is available on the Gasparo label. There are three CDs on the Albany label: the three Piano Trios, "Self-Portrait", which focuses on Hoffman's cello music, and "Three Paths".
Back to Top
---
Composer, violinist, and computer music researcher, Charles Nichols is an Assistant Professor of Composition and Music Technology at the School of Performing Arts and the Institute for Creativity, Arts, and Technology, at Virginia Tech University. He has earned degrees from the Eastman School of Music, Yale University, and Stanford University, where he studied composition with Samuel Adler, Martin Bresnick, Jacob Druckman, and Jonathan Harvey, and computer music with Jonathan Berger, Chris Chafe, Max Mathews, and Jean-Claude Risset. At Yale, he worked as a Research Associate at the Center for Studies in Music Technology (CSMT) and as a Research Assistant at Haskins Laboratories. At Stanford, he served as the Interim and Associate Technical Director of the Center for Computer Research in Music and Acoustics (CCRMA). While on faculty at the School of Music of the University of Montana, he taught acoustic and electroacoustic composition, directed the Mountain Electroacoustic Laptop Ensemble (MELEe) and Pierrot Ensemble, organized the Mountain Computer Music Festival and Composers' Showcase, and managed the Mountain Computer Music Collective and Recording Service.
His compositions, including acoustic and electroacoustic music, for large and chamber ensembles, and fixed media, accompanying dance and animation, have been presented at conferences and festivals, such as the International Computer Music Conference (ICMC), Poznanska Wiosna Muzyczna, Australasian Computer Music Conference, Festa Europea Della Musica, Seoul International Computer Music Festival, Música Viva Festival, Re:New Digital Arts Festival, Musicacoustica Mix, Pan Music Festival, Festival Internacional de Musica Electroacustica, Society of Electroacoustic Music in the United States (SEAMUS) National Conference, Third Practice Electroacoustic Music Festival, Big Sky Alive Festival, Charlotte New Music Festival, New York City Electroacoustic Music Festival, Electronic Music Midwest, Bellingham Electronic Arts Festival, Bang on a Can Institute, and June in Buffalo, in the US, Argentina, Australia, Canada, China, Cuba, Denmark, England, France, Germany, Greece, Italy, Northern Ireland, Poland, Portugal, Romania, Slovenia, and South Korea. His research, including data sonification, telematic musical performance over Internet2, and haptic musical human-computer interface design, has been presented at conferences, such as ICMC, the Korean ElectroAcoustic Music Society Conference, the International Conference for High Performance Computing (SC Global), Association for Computing Machinery Special Interest Group on Graphics and Interactive Techniques (SIGGRAPH), International Conference on New Interfaces for Musical Expression (NIME), Digital Audio Effects Conference (DAFx), International Symposium on Music Acoustics (ISMA), Forum IRCAM, and SEAMUS, in the US, Denmark, France, Germany, Ireland, Italy, South Korea, and Sweden.
He has received support from the National Endowment for the Arts and National Science Foundation, for commissions from the Montana Institute on Ecosystems, the Myrna Loy Center for the Performing and Media Arts, and the Headwaters Dance Company, and recognition from the National Academy of Music, La Fundación Destellos, Institut International de Musique Electroacoustique de Bourges, Renée B. Fisher Composer Awards, New Music USA, the American Society of Composers, Authors and Publishers, and the Montana Arts Council. He has been a visiting scholar, researching haptic musical interface design, at the Sonic Arts Research Centre at Queen's University Belfast, N. Ireland, a visiting composer, working with the Namaste Ensemble in Città di Castello and Rome, Italy, and a resident, at the Ucross and Brush Creek artist retreats, near Sheridan and Saratoga, Wyoming. His recent premieres include Nicolo, Jimi, and John, a concerto, for amplified viola, interactive computer processing, and orchestra, three movements, based on the virtuosity of Paganini, Hendrix, and Coltrane, performed by Brett Deubner, and the Missoula Symphony Orchestra, under the direction of Darko Butorac, and Sound of Rivers: Stone Drum, a multimedia collaboration, with sonified data, electric violin, and computer-processed sound, accompanying narrated poetry, dance, animation, and computer-processed video, based on scientific research into how stoneflies navigate throughout their lifecycles, by the sound of rivers.
---
Paula Matthusen is a composer who writes both electroacoustic and acoustic music and realizes sound installations. In addition to writing for a variety of different ensembles, she also collaborates with choreographers and theater companies. She has written for diverse instrumentations, such as "run-on sentence of the pavement" for piano, ping-pong balls, and electronics, which Alex Ross of The New Yorker noted as being "entrancing". Her work often considers discrepancies in musical space—real, imagined, and remembered.
Her music has been performed by Dither, Mantra Percussion, the Bang On A Can All-Stars, Alarm Will Sound, International Contemporary Ensemble (ICE), orchest de ereprijs, The Glass Farm Ensemble, the Estonian National Ballet, James Moore, Kathryn Woodard, Todd Reynolds, Kathleen Supové, Margaret Lancaster and Jody Redhage. Her work has been performed at numerous venues and festivals in America and Europe, including the Tanglewood Festival of Contemporary Music, the MusicNOW Series of the Chicago Symphony Orchestra, the Ecstatic Music Festival, Other Minds, the MATA Festival, Merkin Concert Hall, the Aspen Music Festival, Bang on a Can Summer Institute of Music at MassMoCA, the Gaudeamus New Music Week, SEAMUS, International Computer Music Conference and Dither's Invisible Dog Extravaganza. She performs frequently with the electroacoustic duo ouisaudei, Object Collection, and through the theater company Kinderdeutsch Projekts.
Awards include the Walter Hinrichsen Award from the American Academy of Arts and Letters, a Fulbright Grant, two ASCAP Morton Gould Young Composers' Awards, First Prize in the Young Composers' Meeting Composition Competition, the MacCracken and Langley Ryan Fellowship, the "New Genre Prize" from the IAWM Search for New Music, and recently the 2014 Elliott Carter Rome Prize. Matthusen has also held residencies at The MacDowell Colony, Yaddo, create@iEar at Rensselaer Polytechnic Institute, STEIM, and the Atlantic Center for the Arts. Matthusen completed her Ph.D. at New York University – GSAS. She was Director of Music Technology at Florida International University for four years, where she founded the FLEA Laptop Ensemble. Matthusen is currently Assistant Professor of Music at Wesleyan University, where she teaches experimental music, composition, and music technology.
---
Mexican-born composer Ricardo Zohn-Muldoon joined the Eastman faculty in 2002. He received his undergraduate degree in guitar and composition from the University of California at San Diego, and both a master's degree and Ph.D. in composition from the University of Pennsylvania. He studied with George Crumb, Jay Reise, Franco Donatoni, Keith Humble, and Jean Charles François. Prior to joining Eastman, Zohn-Muldoon held positions at the School of Music, University of Guanajuato, Mexico (1993-95), and the College-Conservatory of Music, University of Cincinnati (1997-2002).
Zohn-Muldoon's honors include being named 2011 Pulitzer Prize finalist for his work Comala, the 2011 Lillian Fairchild Award, and fellowships from the Guggenheim Foundation, Tanglewood Music Center (Omar del Carlo Foundation), Camargo Foundation, Fondazione William Walton, Endowment for Culture and the Arts of Mexico, and the Embassy of Austria in México (Mozart Medal). He has been invited as guest composer, lecturer, and adjudicator by prominent cultural institutions in the U.S. and Latin America, including the University of Chicago, Cornell University, the Ministry of Culture of Colombia, and the Composers Conference, among others. In 2012 he was a Trotter Visiting Professor at the University of Oregon, in Eugene.
His works have been performed by groups such as as eighth blackbird, Riverside Symphony, Los Angeles Philharmonic New Music Group, Nouvel Ensemble Moderne, Neue Ensemble Hannover, and San Francisco Contemporary Players. Performances have taken place at ISCM World Music Days, National Public Radio's "St. Paul Sunday," Metropolitan Museum of Art, Gaudeamus International Music Week, Academy of Arts in Munich, Festival Internacional Cervantino, and Foro Internacional de Musica Nueva, among others.
His recent work has included collaborations with artists from other disciplines. Encounters, with illustrations by celebrated Mexican cartoonist José Ignacio Solórzano (Jis), was composed for a concert series leading to the FIFA World Cup of 2006, thanks to a commission from Globusklänge and Initiative Neue Musik Berlin. Silueta como Sirena, written thanks to a commission from the Fromm Foundation, is based on songs by distinguished songwriter Alfredo Sánchez. It was premiered by the Riverside Symphony, the Tarab Cello Ensemble, and Alfredo Sánchez in 2007. Pluck. Pound. Peel., for soprano and an unusual ensemble of plucked instruments, strings, and percussion, was written on texts by poet Raúl Aceves, for the Syracuse Society for New Music, in 2010.
Back to Top
---
The music of Clint Needham has been described as "wildly entertaining" & "stunning… brilliantly orchestrated" by the New York Times, as well as "well-crafted and arresting… riveting" by the Herald Times.  Needham recently served as the Music Alive: New Partnerships Composer-in-Residence with the Albany Symphony where his work "Everyday Life" was premiered.  He will be back in Albany during the orchestra's 2014/2015 season as the Andrew W. Mellon Composer/Educator-in-Residence where his work "the Body Electric" will be performed as well as the premiere of his new work "We Are All From Somewhere Else" on their American Music Festival.
Needham's orchestral music has been commissioned and performed by the Minnesota Orchestra, Orpheus Chamber Orchestra, Albany Symphony, Omaha Symphony, American Composers Orchestra, Spokane Symphony, Aspen Concert Orchestra, Cabrillo Festival Orchestra, Sioux City Symphony, New York Youth Symphony, Cleveland Chamber Symphony, Texarkana Symphony,  and Symphony in C, among others.  Various chamber groups including Alarm Will Sound, the American Brass Quintet, Aspen Contemporary Ensemble, the Chicago Ensemble, Da Capo Chamber Players, Fifth House Ensemble, Hawthorne String Quartet, New York Classical Players, Dinosaur Annex, President's Own Marine Band Brass Quintet, Camerata Aberta, Quintet Attacca, and the Stanford Wind Quintet have given performances of his chamber music across the country, as well as in Europe, Brazil, Japan, and Australia.
Upcoming performances of his work include those given by the Albany Symphony, Pittsburgh Symphony, Cleveland Chamber Symphony in collaboration with Verb Ballets, Grand Rapids Symphony, Alarm Will Sound, Iowa State University Orchestra, Da Capo Chamber Players, Space Coast Symphony, Baldwin Wallace Conservatory Wind Ensemble, the Choral Arts Initiative, Factory Seconds Brass Trio, and  the Imani Winds.
Needham's music has been recognized with numerous awards including the International Barlow Prize, Orpheus Chamber Orchestra's Project 440 Commission, Charles Ives Scholarship from the American Academy of Arts and Letters, two ASCAP Morton Gould Awards, the William Schuman Prize/BMI Student Composer Award, the Jacob Druckman Prize from the Aspen Music Festival, First Prize in the International Ticheli Composition Contest, the Heckscher Prize from Ithaca College, a Lee Ettelson Composer Award and the coveted Underwood New Music Commission from the American Composers Orchestra.  Clint is also the recipient of a 2014 Cleveland Creative Workforce Fellowship with funding from the Cuyahoga Arts & Culture.
As an educator, Needham currently serves as Composer-in-Residence/Assistant Professor of Music at the Baldwin Wallace Conservatory of Music.  He has served as an Associate Instructor at Indiana University Jacobs School of Music as well as Assistant Professor of Music at Ohio Wesleyan University.  He holds degrees from Indiana University, where he was a four-year Jacobs School of Music doctoral fellow in composition, and from the Baldwin Wallace Conservatory of Music.  His principal teachers include Claude Baker, Loris Chobanian, David Dzubay, Michael Gandolfi, Per Mårtensson, Sven- David Sandström, and Richard Wernick.  He has also studied with Robert Beaser, Syd Hodkinson, Christopher Rouse, and George Tsontakis at the Aspen Music Festival as a Susan and Ford Schumann composition fellow and with Mario Davidovsky at the Wellesley Composers Conference as a composition fellow.
Needham's music is published by the Theodore Presser Company with additional works published by Manhattan Beach Music and Triplo Press.  Recordings of his works can be found on the Summit Records and Mark Masters labels, by the United States Air Force Band of the West, and from the American Composers Orchestra Digital Release series, vol. 1.  Upcoming recording of his work by the Bala Brass Quintet and Cleveland Orchestra trumpet player Jack Sutte will soon be available.   For more information, please visit www.clintneedham.com.
---
Alejandro Rutty's compositional output includes orchestral, chamber and mixed-media music, arrangements of Argentine traditional music, and innovative outreach musical projects.
A unique feature of Rutty's music is its affection for textures suggested by modern recording processing techniques, and the use of Tango – a genre he performs as a pianist-and other South American genres as part of the music's surface.
Rutty's compositions and arrangements have been played by the Minnesota Symphony Orchestra, Boston Modern Orchestra Project, Indianapolis Chamber Orchestra, National Symphony Orchestra of Argentina, National Symphony Orchestra of Brazil, Porto Alegre Symphony Orchestra, New Mexico Symphony Orchestra, Linköping Symphony Orchestra, American Modern Ensemble, the New York New Music Ensemble, the Red Clay Saxophone Quartet, and the Cassatt String Quartet among other groups. Rutty's music has been published by Effiny Music, SCI/European American Music, and Ricordi Sudamericana.
Recordings of his music have been released by Navona Records, Capstone Records, Arizona University Recordings, and ERM Media, PAI Records.
Founder and Artistic Director of the Hey, Mozart! Project, Alejandro Rutty is currently Associate Professor of Music at the University of North Carolina at Greensboro.